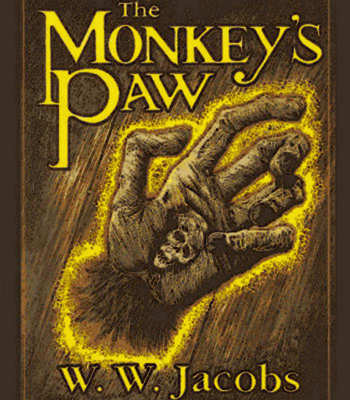 I'm sorry I wasn't able to bring this to your attention sooner, but I just got the press release.
You only have two more chances to see the Coffee Cup Theatre Company's (CCTC) presentation of three Halloween radio plays at the Bard's Town Theatre-- tonight and Saturday night at 7:30pm.
I'm a big fan of all three stories presented: "The Monkey's Paw," "The Canterville Ghost," and "The Cask of Amontillado."
When I was a wee lass-- single-digits-young-- I was a precocious reader. I taught myself to read at age three and blew through reading levels until I was reading-- and devouring-- Agatha Christie novels before the age of ten.
Before I was in my teens, my mother handed me Dante's Inferno and the Cliff's Notes to Dante's Inferno, and I read it from cover to cover, dutifully sketching maps and diagrams of Dante's journey through Hell with colored pencils and a pad of newsprint.
But when I was really wee, maybe seven or eight, my Nana gave me a beautifully bound and illustrated collection of Poe stories. I could read most of it myself, but I struggled with some of the vocabulary. I remember sitting with Nana on the couch of her beach house (which would later become her full-time home after retirement) and having her read "The Cask of Amontillado" to me before bed.
I still remember the chill I felt when she read the exchange between Fortunato and Montressor at the very end of the story (I don't think this is a spoiler at all, in case you haven't read it).
Fortunato says, "For the love of God, Montressor."
And Montressor responds, "Yes. For the love of God."
GOOSEBUMPS. Even now.
And for the past six years I have taught that story to high school juniors. And every time I get to that point in the story... chills.
Here's info from the press release from the CCTC:
Coffee Cup Theatre Company (CCTC) will open its 2012 – 2013 Season with a trio of Halloween plays performed at The Bard's Town, located at 1801 Bardstown Road, on October 11, 12, 13, & 18, 19, 20 at 7:30 pm.
The production entitled Halloween Trilogy of Radio Plays featuring "The Monkey's Paw" by W.W Jacobs and adapted by Jeanette Jaquish; "The Canterville Ghost" by Oscar Wilde; and "The Cask of Amontillado" by Edgar Allan Poe and adapted by Cecilia Fannon and John de Lancie.
Tickets are now on sale and reservations can be made by calling (502) 299-8501 or e-mailing

coffeecuptheatre@gmail.com

. Tickets are $15 for adults and $10 for students and seniors (Cash & Checks only).