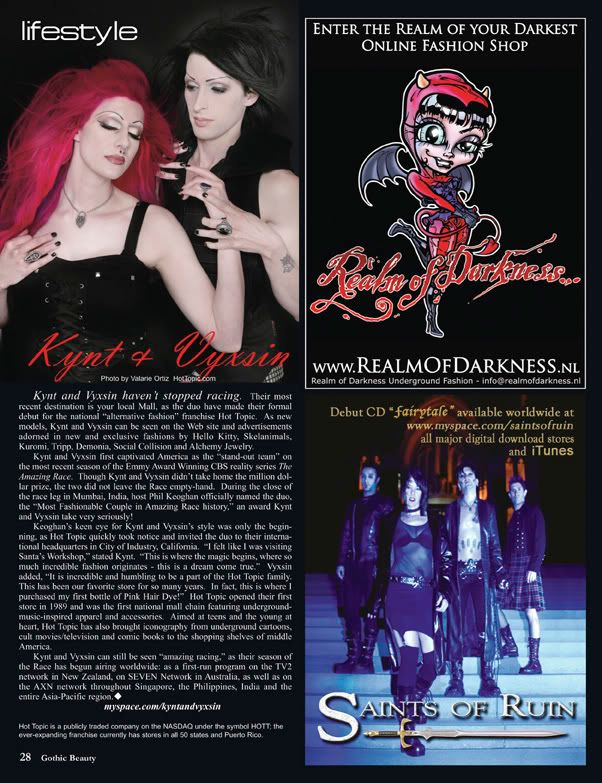 Speaking of local celebrities, a source in the know told Lou that "the pink and black attack," Louisville's own "dating Goth" celebrities, Kynt and Vyxsin, have packed their patent leather bags for a move to LA. (In fact, their MySpace page lists LA as home.)
"There are only so many gay pride events in Louisville," says the source. "Every time they travel, they're booked solid for events."
Kynt and Vyxsin have parlayed their Amazing Race fame into appearences on two of Rosie's family cruises, modeling gigs for Hot Topics stores, and a profile in this month's Gothic Beauty magazine.
Also, it's "their" episode of Amazing Race that's been nominated for six emmys this year. (The episode, titled "Honestly, They Have Witch Powers or Something" is the one where they're elminated in India).
I'm sorry to see them go. I never met them, but I liked having them around. Unlike Tracee Dore, who seems to have dropped off the face of the earth-- a google search yielding articles in local newspapers all lead to dead ends-- Kynt and Vyxsin did their hometown superproud.
(Gasp! While digging around for stuff on Dore, I discovered oodles online that Mikey V., the cop from Miami, was suspended from the Miami PD over allegations that he appeared in a gay bondage adult film called Rope Rituals, 1996!! And that he's not only gay but very out and for some oddball reason HGTV sat on that fact, despite being so very gay friendly. Weird.)